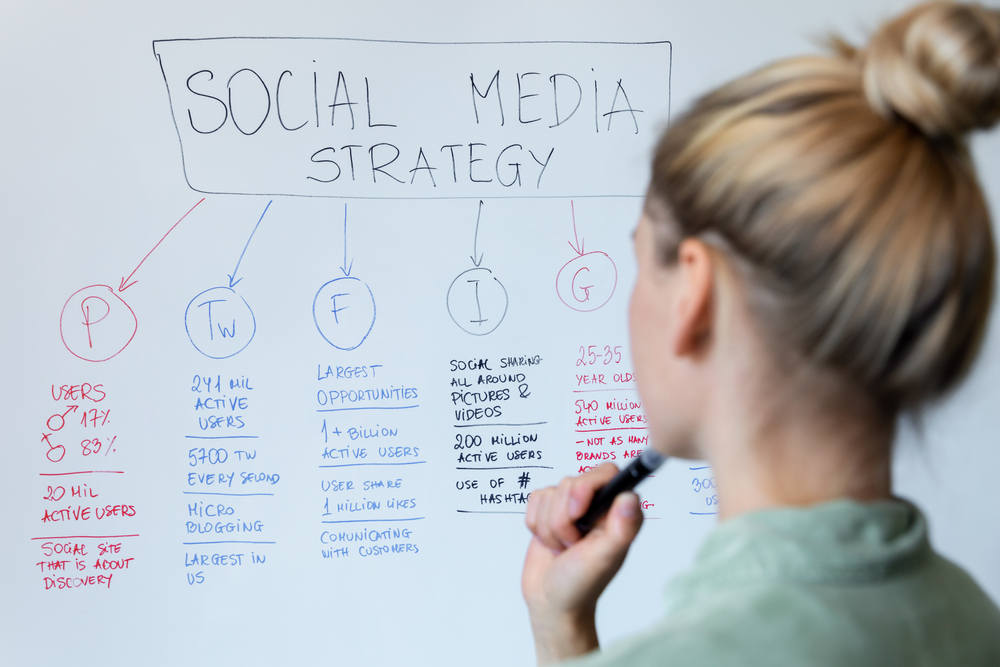 The S.M.A.R.T goal framework replaces vague business goalsetting with an organisational strategy anchored by Specific, Measurable, Achievable, Relevant, and Timely goals, and it can be effectively applied to your social media strategy.
By establishing and setting goals, businesses can measure the success of strategies put in place and subsequent ROI (return on investment). The S.M.A.R.T goal framework ensures actions are based on Specific, Measurable, Achievable, Relevant, and Timely goals that translate into results. Your social media strategy will benefit from the rigour of the S.M.A.R.T approach.
1. Specific
For the best results, it pays to know some specifics about your target audience before you post. First identify and gather information about your target audience and learn about the type of content that would appeal to them most. Eager business content posters often make assumptions and post too much too quickly.
Your information gathering should indicate which social media platforms are the best fit for your audience. Ask first whether you have an active audience on that platform and whether that platform can deliver your set goal. For example, Instagram is the key social media platform for younger followers and is highly visual. Statistics show that 59% of Instagram users are aged between 18 and 29 (Source: Fiber.com).
Businesses that supply strong visuals like photos and videos and can get by with shorter text. For example, businesses such as fashion brands or restaurants are more Instagram-ready than say an agriculture or construction businesses. Businesses in those industries can still have success on a visual platform like Instagram but might need to be more creative about their posted content.
Whether your business is B2B or B2C will also determine the audience for your social media posts. Target your strategy to the right audience.  For example, an effective B2B social media strategy gathers leads and generates interest in your product or service, through regularly blogging, case studies, e-books and creating lead magnets. LinkedIn is a key platform for a B2B promotion and could be supplemented by other channels including Facebook when relevant.
2. Measurable
Each social media platform under your business account can be analysed easily using the insights or analytics setting.
There is a wide variety of ways you can measure your success including looking at engagement, actions on your page, your followers, the number of people who saw you post on their timelines (impressions), the number of times that people clicked on your post and more.
Investigating the analytics results can inform your platform preferences.
There are a number of social media management tools readily available that will help you gain much needed analytics and insights. You can use the built-in analytics available on different social media platforms or implement platforms designed specifically to schedule, monitor, and provide detailed insights to your chosen social media platforms. Some of these platforms offer paid subscriptions like Sprout Social and BuzzSumo or you can utilise other free to use analytical programs like Google Analytics.
3. Achievable
Social media content tends to become obsolete quickly, so develop an achievable schedule to post actively and regularly. Neglected posting will make your social media efforts less memorable and lacking in impact.
Then again, don't over-post to the point you overwhelm then trigger an audience 'unfollowing'. Find a happy medium.
If consistency is a problem consider implementing social media management tools to organise media, schedule posts in advance, and create content calendars. Most will also provide insights and achievable time recommendations for your audience base.
Tie your posting to topical information and events. Link current special offers to Christmas, Valentine's Day, Seasons and special days of observance like Daffodil Day.
4. Relevant
It no secret that content is king. Content is the fuel to social media platforms and it is therefore crucial to produce relevant, high-quality and engaging content.
The information you gathered about your audience, in addition to your goals and brand identity, forms a picture of what would be relevant to publish on social media.
Boost content engagement by creating a consistent image and colour scheme. Build a content calendar that cycles through suitable content like memes, product images, videos, motivational quotes and user-generated content, for example.
Get your branding right. Include personal photos of your business and team to represent an engaged and authentic business persona.
Conduct a competitor analysis to understand who the competition is and what they are doing well or not so well. This can also help you find a potential gap in the market to fill. Competitor analysis tools can be found on different platforms. For example, on Facebook the 'insights tab' allows you keep tabs – adding your competitors' pages to your watch list can keep you updated on their activities at a glance.
Make good use of all the content you develop for other platforms such as websites by sharing content across all social media platforms. Optimise each post's determinant on the platform, and change the image or text if required to better engage and attract attention.
5. Timely
Social media moves fast and changes constantly, to be successful it's up to you to keep up with these changes, conduct reviews and make timely adjustments.
Don't assume you will get your social media strategy right on the first try. As you start to implement your plan and track results, you may find that some strategies didn't work as well as anticipated, others better than expected.
Using data and metrics associated with your chosen social media platform, re-evaluate your strategies regularly and test against one another. Constant testing allows you to understand what works and what doesn't, so you can refine your strategy in real time.
Social media content is a crucial element of your communications plan but your advertising budget should also allow for boosting your posts. This well help with brand awareness and generate new leads, a necessity if you are trying to reach new markets and audiences.