Brand building and a strategic communications strategy that has achieved measurable results.
STRATEGY
Activus Transport has been providing community transport services in the Sutherland Shire for more than 30 years.
The organisation currently receives funding from the Commonwealth Department of Health via Transport for NSW. Other sources of income include social outings and bus hire. In addition to Government funding, Activus depends on volunteers, grants and sponsorship to maintain services for elderly and disabled residents.
Activus approached Infodec Communications to build the organisation's community profile with a view to strengthening the resilience of the organisation. Over a period of a few months Activus commissioned Infodec to develop and undertake strategies to help build the organisation's profile in the community and secure funding.
The first phase of Infodec's strategy for Activus was to research the organisation's place in the Not-for-Profit sector.
Infodec researched the possible funding avenues that could be open to Activus, including sponsorship opportunities; securing government grants; and engaging with community health organisations, clubs, shopping centres and nursing homes.
Infodec researched avenues for stronger engagement with related organisations such as carers, aged care groups, and disability groups who require the services of Activus.
Infodec reviewed the organisation's existing website, communications and activity to make recommendations on how to enhance them and maximise opportunities for exposure and funding.

Prior to undertaking activities in the plan, Infodec presented findings to the Activus board so they could assess the strategies Infodec proposed and their long-term requirements.
In the third phase Infodec worked with Activus on implementing the approved strategies, with considerable success.
Testimonial from the client
"We engaged Infodec Communications to develop and implement a strategic plan to raise the profile of our NFP and seek new funding sources.
We have been extremely pleased with the outcomes of the project, including the media coverage, engagement of high-profile Ambassadors, grant applications and relationship-building activities. Their approach is deadline driven, proactive and insightful and they know how to capitalise and build on the links between NFPs, government and business. I would highly recommend their services."
Greg Stanger, General Manager
RESULTS
Meetings with shopping centres and clubs
Many Activus group outings involve attending shopping centres and clubs. Infodec secured meetings with Centre Managers from Westfield, Lend Lease, Club Menai, Sharks Leagues Club and more.
As a result of these meetings shopping centre spaces for the promotion of the organisation were secured, along with the offer of cross promotion.
Ambassadors
Infodec elevated the organisation's profile by helping Activus to connect with relevant figures and establish a formal ambassadorship program. This involved researching the best fit for the organisation, and developing written communications to explain more about Activus and how the ambassadorship would work. It included organising and attending meetings with ambassadors and managing the ongoing relationship with the organisation.
Within six months, Activus had engaged two eminent Ambassadors.
Ambassador Professor Pete Gonski is a great advocate for the aged care sector.
As Director of Southcare at Sutherland Hospital and Community Services, Associate Professor at the Faculty of Medicine, UNSW, and Clinical Stream Director for Aged Care and Rehabilitation, South Eastern Sydney Local Health District, Associate Professor Gonski provides a strong voice for improved community integrated care.
He leads the Rapid Assessment, Diagnosis and Intervention Unit Sutherland (RADIUS) at Sutherland Hospital, which helps links patients with community services. His work has highlighted the importance of affordable community transport in supporting positive health and ageing outcomes by ensuring people are able to attend medical appointments, social outings and community activities.
Ambassador Cheryl Koenig OAM is a wonderful advocate for carers, who play a crucial role in supporting both geriatric and disabled clients. As NSW Woman of the Year in 2009, award-wining author and proactive fundraiser for healthcare services and non-government support groups, Cheryl Koenig has a strong profile and understanding of issues concerning carers and the disability sector. A significant percentage of disabled or frail aged customers travel with a designated carer, from family members to professional support staff, and with Cheryl Koenig's experience Activus can enhance community transport initiatives that improve long-term outcomes for local residents.
Media coverage
In a time when editorial space continues to decline, Infodec was still able to ensure the organisation's regular activities received press coverage with articles in local newspapers and Not For Profit industry publications.
Detailed press releases and images featuring Activus public showcases, such as the announcement of Ambassadors and coverage of events including the Mastering the Aged Care Maze flagship event, helped secure more column inches in local newspapers.
Infodec secured media coverage in The St George and Sutherland Shire Leader, Third Sector, Community Care Review and Australian Aging Agenda.
Grants
Infodec are experienced at providing advice, content and editing for grant applications. Grant bids and wins are a great way to consolidate achievements and increase awareness of an organisation. Infodec's expertise helped Activus access a wider range of grant opportunities, and formulate strong applications in time for consideration. In an outstanding grant result, Activus has now secured a vehicle from the Honda Foundation grant.
Government Relations
Infodec has elevated the profile of the organisation with elected representatives, including arranging and attending meetings to raise issues relevant to organisational operation. An Activus volunteer was subsequently awarded with a NSW Seniors Festival Local Achievement Award by Eleni Petinos MP.
Corporate funding / Relationship Building
Infodec regularly works with inclusive NFPs, so is familiar with their requirements when it comes to relationship building.
Infodec has worked with Activus to widen its profile with local businesses and explore options for corporate sponsorship and funding.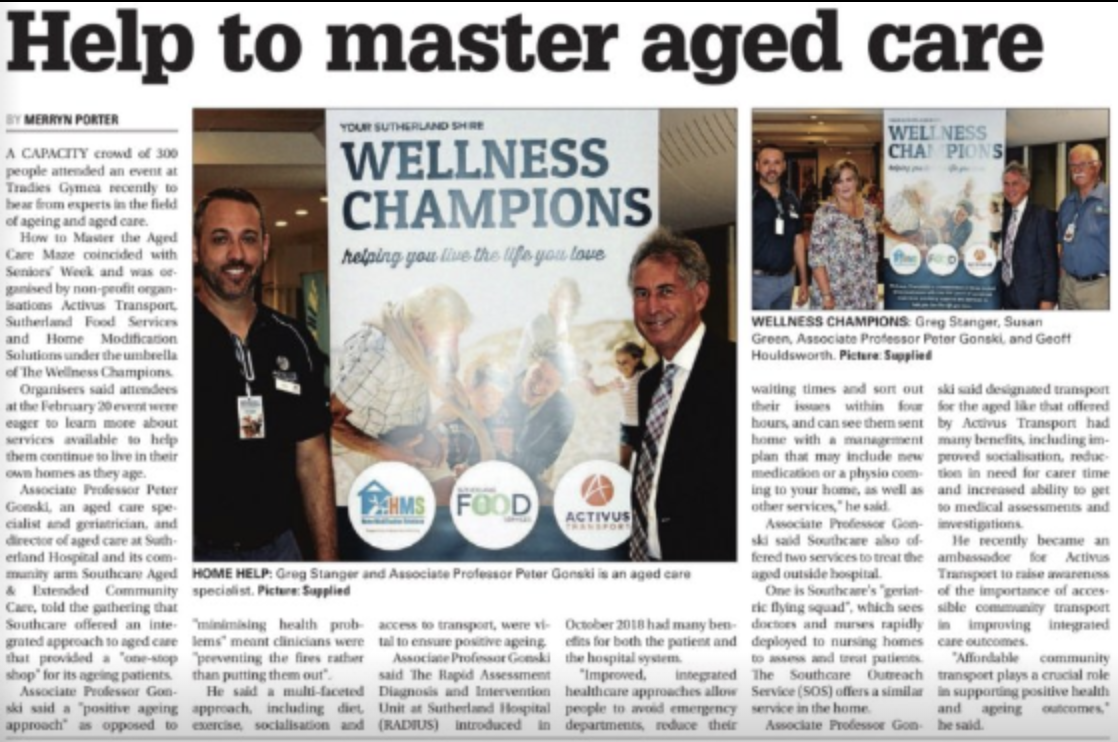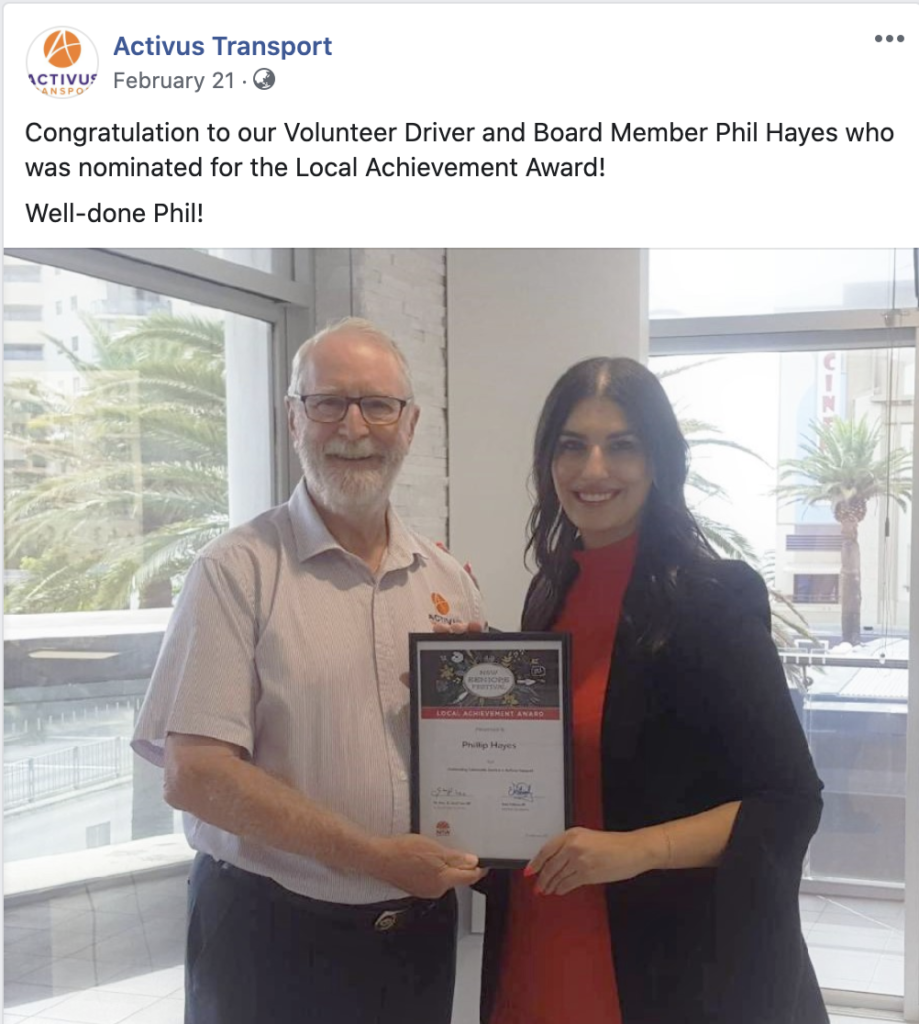 Eleni Petinos MP with Activus volunteer