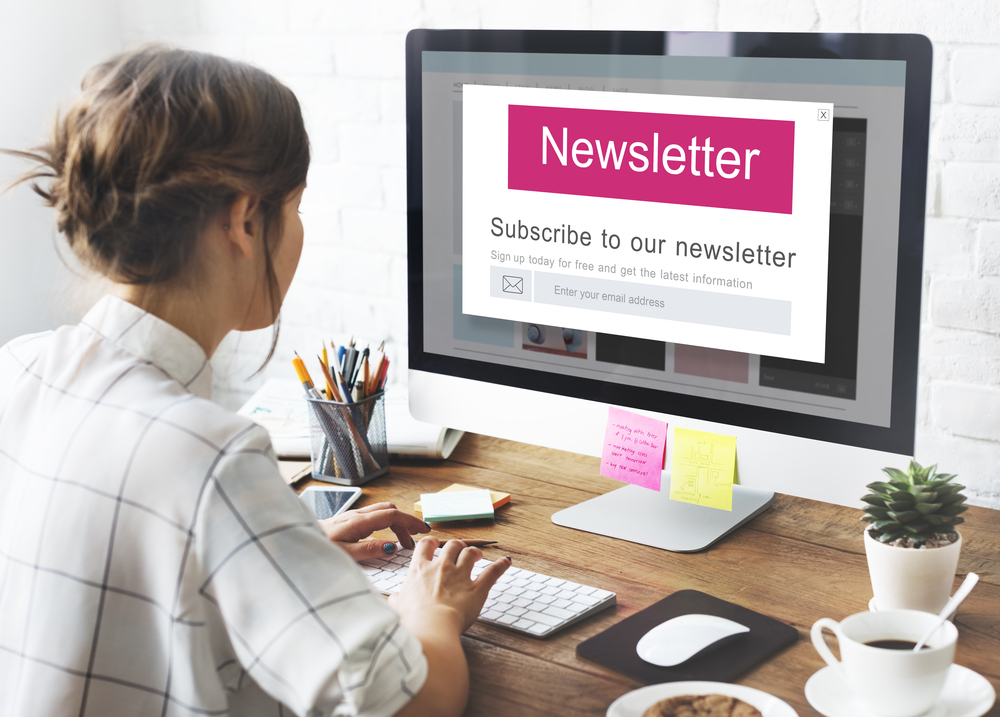 Newsletters are one of the most reliable ways to convey your company's message and email newsletters continue to convert well in the digital environment.
In 2020 newsletters still hold their own when compared to promotion through social media platforms.
People's reliance on email and conversion rates through email are strong:
91% of consumers check their email at least once per day on their smartphone, making it the most used smartphone function.
Email conversions are three times higher than social media conversion rates, with a 17% higher monetary value in the conversion.
There are many reasons why email newsletters complement a social media marketing campaign or provide their own unique attributes. There is also evidence that a print version of your newsletter is still a reliable way to convey your message to your email list.
They already know you
Due to spam laws, email list recipients tend to be familiar with your business brand already. They may be exiting customers, people who have signed up to learn more, or those who downloaded free content that you have given away online.
A newsletter is your opportunity to engage with them on a new level.
You 'own' your audience
Owning an audience through your email list allows you to target and control marketing messages and experiences without being susceptible to platform algorithms. Developing campaigns on social media can be tricky, as the followers you gain are not an owned audience.
Platforms like Facebook and Instagram have a direct impact on what your followers see by changing their algorithms, so a consistent message is not always possible as audiences won't necessarily see everything you share. With an email newsletter you 'own' your audience, you market the message that you want to be seen directly to your recipients and you retain control of the communication process.
You can display your expertise and authenticity
A major drawcard for developing and distributing newsletters can be seen through personalising content in an authentic manner. Now, more than ever, consumers crave authentic information as their trust wavers. Authenticity is vital to brand storytelling and to the customer experience as a whole. Focusing on content that adds value to your audience shows care and thought.
It makes the individual feel that you are invested in them. One survey revealed that 86% of individuals say authenticity is important when deciding what brands they like and support. Newsletters provide the scope and detail that really explains your credibility and builds a relationship. This kind of open and authentic communication with consumers is something social media can only dream of.
Increase web traffic and drive sales
Email newsletters are a valuable component of any marketing campaign, as they increase brand recognition and top-of-mind awareness, especially if sent out regularly. You have the opportunity to offer a product or service and connect it to the reader. Ensure links are readily available and the newsletter has a strong call to action. Provide incentives (such as special promotions or coupons) to sway people, as most of us are impulsive to a degree and will jump at a good offer we think might not last for long.
'News'letters for a reason
Newsletters are good for sharing knowledge and information that promotes your business as a whole. Projecting the business personality and evidence of its validity to the target market can be achieved through newsletter features such as blog posts, case studies, infographics, videos, loyalty offers, and much more.
Infodec Communications can help you develop an email newsletter marketing strategy that starts and ends with understanding your target audience.
Measure your results
Email newsletters can measure results, providing a great opportunity to gauge your effectiveness in the market. The data generated – delivery rates, open rates and click-through rates – will reveal how your message is being received.
Email campaign metrics can differ depending on the main intent of your email campaign. As well as analysing data and open rates, consider the context of the message and benchmark your campaign accordingly.
What about print Newsletters?
Even though the print newsletter has been overtaken in popularity by its sought-after digital cousin – the email newsletter – it remains an effective marketing tool. Recall some of the advantages of print. There is no opt-in or spam filter blocking out potential consumers. A print item is tangible and highly visible, compared to a single line in a busy inbox, and this can add to the perception of value. Trust and other positive effects associated with physically opening, reading and keeping a print newsletter cannot be replicated online.
Newsletters are substantial, durable contributions that will be consulted in the future as well as in the present. The benefits of email newsletters, and their print versions, are available to most businesses, get in touch with us today to find out more.
Contact Infodec Communications on 02 9531 5595 or contact@infodec.com.au to see how we can help your business start your newsletter campaign today.